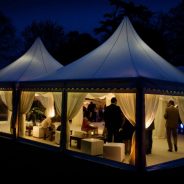 Essex Marquees has just purchased brand new Panoramic Windows for our Chinese Hats, creating the perfect look for your intimate Garden Party or Sophisticated Corporate Event. Please Contact us on 01708 54 54 45 or email us on info@marquees-and-events.co.uk for more information.
read more
Our designers and events team are creative and treat every one of our clients and their businesses is the individual way that you expect from a professional hire company. Our experienced team will assist when you are planning a corporate function, whether they are small private events or a larger get together with your delegates. We approach every marquee hire project with a one to one outlook – taking in your ideas and requirements and combining them with an exclusive service that we don't think can be found elsewhere in Essex. All of our...
read more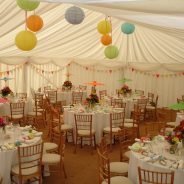 Essex Ladies and Gents – Party away! Make your party extra special by using starcloth roof, a chandelier and disco lighting. We can light the outside of the marquee too. Our specialist events team will help you to theme the interior according to the theme of your party – we have expertise in party planning that spans 150 years and we know how important it is to get it right, every time. We've created many themed evening parties such as Bond parties, superhero's and many more elegant ones too. If you would like to make an appointment, we...
read more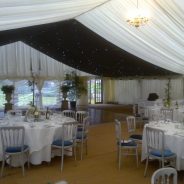 Marque events aren't restricted to just the summer, they are a fantastic way to enjoy the garden and the outdoors even in winter. We are Marquees and Events and we have some fantastic and powerful heating systems that we can add to any marquee that you hire from us. Based in Essex, we have a great client portfolio already made up of people that are entirely delighted with our service and our hire products. With hard flooring too, we can make the winter marquee warm and comfortable – your guests might complain about the weather outside but...
read more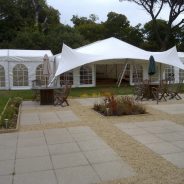 Your wedding day is one of the most special moments and it's important to create a wedding celebration that will create positive and happy lasting memories. Here at Marquees and Events we help to create those memories and pride ourselves on doing so. We know just how important it is to get your day planned perfectly so that you can enjoy it with your guests without any worries. If you think that creating a dream wedding means booking an expensive castle or hotel then you might be surprised to know that, in the 150 years we have been in this...
read more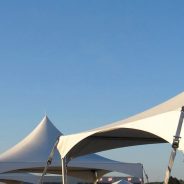 Many of us will probably remember summer weddings with an outside marquee where guests can enjoy champagne in the courtyard or in the 'tent' outside. The simple joys of chatting and drinking on the patio are worth remembering, but then everybody is ushered indoors never to be allowed out again! Well, hiring a marquee gives you the enjoyment of the outdoors, without having to spend the day of your wedding inside. People can still hear the music from the marquee whilst they watch the children play on the lawn, getting into the party spirit; and...
read more