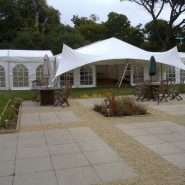 Your Big Day is one of The Best Days of Your Life
Your wedding day is one of the most special moments and it's important to create a wedding celebration that will create positive and happy lasting memories.
Here at Marquees and Events we help to create those memories and pride ourselves on doing so. We know just how important it is to get your day planned perfectly so that you can enjoy it with your guests without any worries.
If you think that creating a dream wedding means booking an expensive castle or hotel then you might be surprised to know that, in the 150 years we have been in this industry, marquee hire can be as basic or extravagant as you want it to be. Marquees have come a long way since the early days and we know that only too well.
They are safe, weather resistant, and very sturdy and they can be decorated inside to suit your theme beautifully. There are coloured linings that can be selected, romantic and decorative lighting as well as hard flooring, carpets and everything else that you can think of. Even winter weddings occur during the cold months because marquees can be heated.
The possibilities are endless. We can turn the marquee into almost a grand palace that the Queen would be proud of, or we can leave it as basic as you wish.
One of our advisors would be happy to visit you and discuss the processes as well as the costs with you. So, if you are budget savvy or want to blow the budget then speak to Marquees and Events first.