Weddings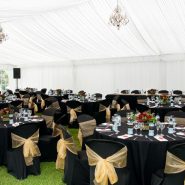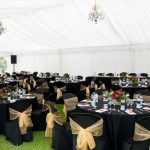 Hosting your big day in a marquee is the perfect way to creating lasting memories of the right kind!
Whether you have chosen to erect a marquee at your own home or other private garden, or at one of our recommended Essex based venues, we will make sure that every attention to detail is carried out.
We want to help you create your dream wedding, and with the choices available we can do exactly that.
With very careful planning, we turn what could otherwise be a complex process into a simple one.
Hassle Free Marquee Hire
We realise that every element of your marquee needs to be considered, and because we have 150 years of experience in our field we know that nothing will go wrong; even the weather won't have an effect on your wedding day as your guests will be comfortable inside the marquee.
We'll help plan for a spectacular atmosphere and create a sparkling environment in which you and your guests can enjoy dinner, speeches and dancing into the night.