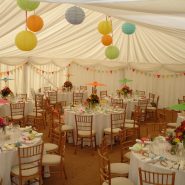 Marquee Hire for Essex Parties
Essex Ladies and Gents – Party away! Make your party extra special by using starcloth roof, a chandelier and disco lighting. We can light the outside of the marquee too. Our specialist events team will help you to theme the interior according to the theme of your party – we have expertise in party planning that spans 150 years and we know how important it is to get it right, every time.
We've created many themed evening parties such as Bond parties, superhero's and many more elegant ones too.
If you would like to make an appointment, we will meet with you to talk to you about your plans and how you want us to theme your hired marquee. In return you will receive a competitive quote, an excellent personal service, and experienced designers who can make sure your night goes with a bang. We'll make sure every one of yours guests enjoys their time at your party, and no doubt you will all finish the evening on the dance floor!
From hiring marquees for children's parties to 100th birthdays, we will supply all that you need to turn your party into an extra special celebration.
Fun fair rides, entertainers, catering and much more – we help plan the lot.
What are you waiting for? Come and join us; when you hire from us you will receive an exclusive service that promises to get your party started from the start.